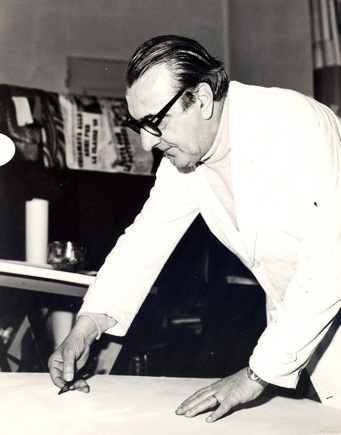 Born in the heart of Bologna on November 25, 1914, Antonio Mazzotti soon displayed love for drawing and painting: his parents supported their son, who obtained his high school diploma from the Liceo Artistico in Bologna in 1933. Some months after getting his School of Arts qualification, he passed the open exam that allowed him to be employed by the Italian Ministry for Education for teaching art and drawing technique in junior high schools. His first assignment was in Venice: he lived there five years.
Mazzotti went back to Bologna in 1940 at the start of World War II to reunite with his widowed mother. He then obtained his permanent appointment to the "San Domenico" junior high school, where in 1960 he would meet his wife-to-be, Liliana Anna Migliavacca (artist, engraver, alumna of Giorgio Morandi's at the Accademia di Belle Arti).
During the post-war reconstruction Mazzotti, who would feature remarkable geometric design skills, began cooperating with Alberto Legnani and other important architects. His roles were basically the graphic rendering of plans and the design of decorations for housing development projects and for public buildings in Bologna. Architects Luigi Vignali and Enzo Zacchiroli, one of his best mentors and collectors, were also his friends.
Mazzotti started his first painting experiences in those years. His first painting, a self-portrait (1939), was soon followed by a series of post-impressionist sill life paintings; his favourite artists came from different ages: Piero della Francesca, Dutch and Flemish painting from the 16th century, French artists from the 19th century as Delacroix and Courbet, Cézanne, 20th century avantgardes, Cubism, Kandinsky, Klee, Vasarely. He then discovered a special predilection towards George Grosz, the German artist who fought against Nazism: in fact, he quoted Grosz on the catalogue from one of his first graphic exhibitions: "Here I create my own imaginary world, a world that will keep on existing in secret though it will be a non-utilitarian one. Reality is made of beauty as well as of utility. Today we learn that an ivory tower is far more steady than other structures that are deemed functional…".
This passage also highlights the leading features of his character: sobriety in his lifestyle and a benevolent shyness that sometimes would lead him to a form of isolation. His work, too, could hardly be framed within one definite painting "school". However, if on the one hand Mazzotti never exploited his achievements for a better visibility, on the other, he had always pursued contact with artists and intellectuals, and he enjoyed the company of his friends – artists, novelists, journalists – as an outstanding opportunity to exchange ideas and for constant learning. Amongst his best friends (without claiming to be exhaustive) were: novelists Giuseppe Raimondi, Marcello Venturoli, his peer Renzo Biasion (novelist, journalist and artist), Francesco Arcangeli (1915 – 1974) art historian, poet, professor of art history at the University of Bologna and director of Bologna Modern Art Gallery, who authored the introduction to Mazzotti's first solo exhibition in 1972. Also included amongst his friends and acquaintances were painters painters Luciano Bertacchini, Ivo Tartarini, Pirro Cuniberti, Giovanni Ciangottini, Luigi Bianchi, artisan printer Alberto Bettini, younger artists Piero Manai and Roberto Rizzoli,  his favourite pupil Maria Teresa De Zorzi, and sculptors Luciano Minguzzi, Quinto Ghermandi and Venanzio Baccilieri (both the latter sculpted portraits of him). 
The extent of such a network conveys the idea of how important the bond with his hometown was. Bologna was a crucible for a generation of artists and intellectuals, and was the elective center of Mazzotti's own world as artist, husband, and father. He lived all his life there, and would not live anywhere else. The places he loved most were the streets in the city centre where he lived and worked. Of particular significance was his childhood home in Via San Vitale; then, following his return from Venice, Via Solferino which was his home until November 1960, at which time he and his wife moved to Via Castellata. After their daughter's birth in 1966, Mazzotti relocated his studio to a two-room flat in Via Rialto, and that is where he did most of his work.
In 1984 he began suffering from the first symptoms of the ictus that would ultimately cause his death; he passed away on December 8, 1985, aged 71.