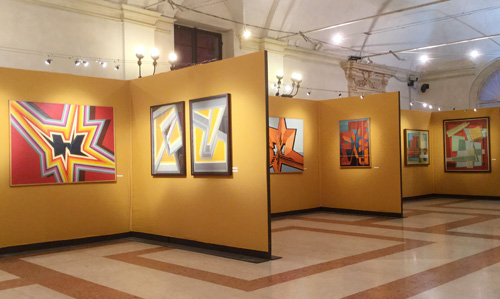 Mazzotti's first exhibitions started in the mid-'50s; encouraged by art critic Corrado Corazza, he began participating in several exhibitions organized by the Emilian syndicate of artists. Works were selected for some exhibitions: in 1968, "Bolognese artists of the 20th Century" in Zagreb Modern Art Gallery; in 1971 the 2nd International Art Contest in Castellammare di Stabia (Neaples), where he won the first prize ex aequo with Carlo Montarsolo and Raffele Lippi; in 1973 at the International Festival at the Kharkiv Art Museum, the exhibit "Bologna: grafica oggi", introduced by Franco Solmi, director of Bologna Modern Art Gallery 1972 to 1987, included one of his drawings.
His first solo exhibit was held in November-December, 1972, at the Galleria Forni in Bologna; the introduction was authored by Francesco Arcangeli.
Besides oil on canvas paintings, Mazzotti's productions feature a variety of graphic works. As far as his method is concerned, his works are the outcome of ideas and compositions conceived as sketches developed on smaller scale, either as black and white drawings in charcoal, or as collages made on cardboard. In 1974 he added a new element to his own graphic itinerary: a portfolio of six original colour lithographs in 75 copies, printed by Edizioni d'Arte "La Zebra", Udine, which included an introduction by Marcello Venturoli.
In March, 1976, his first solo exhibit outside Bologna was held at the Galleria Le Mura in Cremona, where it was introduced by Elda Fezzi. Other exhibits were held in Galleria Fumagalli, Bergamo, then once again in Cremona (Galleria Il Triangolo). Galleria Fumagalli has since regularly introduced works by Mazzotti in its exhibits, together with works by artists such as Max Bill, Victor Vasarely, Lucio Fontana, Eugenio Carmi, Franco Giuli, Mario Nigro.
In April, 1977, Galleria La Loggia (Bologna) organized a solo exhibit of Mazzotti's paintings. His first exhibition in a civic institution was held in September, 1979, at the Palazzo dei Diamanti in Ferrara. Entitled "Dalla figura alle forme inventate", and introduced by Franco Solmi, it featured 31 paintings from 1963 to 1979.
 
Mazzotti's largest exhibit was held in April-May, 1983, at the Bologna Modern Art Gallery, and featured 80 paintings and 20 charcoal drawings. The introduction and the scientific supervision of this exhibit was conducted by Marilena Pasquali.
In June, 1987, the first posthumous exhibition – entitled "Luce e Struttura", featuring charcoal drawings – was held at the "Interno Quattro" Art Gallery in Udine. In May, 1988, a retrospective exhibition held at the University of L'Aquila (with an introduction by Lamberto Priori) featured 20 paintings and 10 charcoal drawings. In summer 1988 the Municipality of Monzuno (Province of Bologna) organized the exhibition "Panorama - Arte a Bologna: la Generazione Anni Dieci", with a special section dedicated as homage to Antonio Mazzotti and Giovanni Korompay.
In 1992, works by Mazzotti were displayed in the Galleria d'Arte Zanarini, Bologna. That same year, his painting "Opera N.24" (1976) was displayed in the collection of the recent donations and bequests bestowed by artists to the Museum of the Raccolta Lercaro (Bologna).
In 1995 one of his paintings was selected for the exhibition, entitled "Figure nel Tempo" at the Galleria d'Arte Fossalta, Bologna. Supervised by Beatrice Buscaroli, it featured works by Corsi, Romagnoli, Grazia Fioresi, Lea Colliva, Bertocchi, Pizzirani, Rossi, Protti, Vignoli, Bertacchini, Saetti, Biasion, Borgonzoni, Corazza, Guidi, Vacchi, Ceregato. In October, 1995, the exhibition entitled "In Ricordo di Antonio" at the Galleria d'Arte Paolo Nanni in Bologna honoured his memory on the 10th anniversary of his death. During the opening ceremony, held on October 7, Architect Enzo Zacchiroli (1919 – 2010) celebrated the memory of his friend with an affectionate address.
In March, 1996, Monica Miretti selected two of his paintings for the exhibition "Dialettiche Polarità" at the Galleria d'Arte Paolo Nanni. This exhibition also featured a collection of works by Saffaro, Korompay, Marchegiani, Romiti, Nanni, and Mulazzani.
Between March, 1999, and October, 2000, the Galleria d'Arte Fossalta hosted Mazzotti's works in two exhibitions: "Scenari consueti" and "Confronto sulla natura morta". In December, 2000, 3 paintings were displayed at the exhibition of the permanent collection of the Museo Magi'900 in PIeve di Cento (Bologna).
A large retrospective, with scientific supervision and catalogue introduction by Renato Barilli. The exhibit, supported by Bologna Municipality and by the University of Bologna, welcomed over 2,000 visitors in 4 weeks.